Steve White is an author and dialysis patient at Pure Life Renal of Perimeter in Atlanta, GA. His most recent book "When Kidneys Fail" provides an indepth overview of his journey with kidney disease. His hope is that the book will provide patients and their families with a better understanding of kidney disease.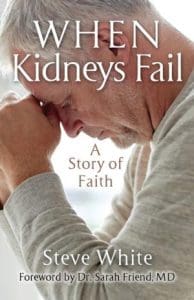 "When I came Pure Life to visit, I was impressed by the facility. It is bright, open and comfortable. The staff is most welcoming and have treated me with utmost care since I became a patient. I'm happy with my decision to go to Pure Life Renal for my dialysis"
-Rita G.
Pure Life Renal of Cool Springs TN
---
---
"My name is Florence and I'm now taking dialysis.  I want to tell you about Pure Life Renal of Cool Springs where I go.  The facility is really nice and the people are even nicer.  If you are looking for a facility to take dialysis, come and check out Pure Life Renal."
-Florence
Pure Life Renal of Cool Springs TN
---
"I am a dialysis patient from Fresenius. I have a winter house in Naples, Fla.. which I am fortunate enough to go to for three months every winter. I am writing you this letter to tell you that I was able to go to your new clinic on Pine Ridge Road in Naples! I had a scheduling problem at another clinic. I called our former manager, Ms. Hina Makwana. I knew her from another clinic. I called her and she remembered me, She was able to take me on first shift at your clinic. I wanted to make sure you knew what a terrific manager Hina is and the entire staff is so professional and courteous to the patients. Your facility is magnificent. It was like being in a five-star hotel. I guess you know that being on dialysis is not an easy job and anything to make our lives easier is a wonderful thing. Hina welcomed me with open arms (6 ft away) and was so comforting to me after my bout with the other clinic. The entire staff was so kind and responsive to my needs. I wish I could have stayed longer, but had to return to Pa. I already made a reservation for 2021 if I am lucky enough to go back.
The world has changed and we have to accept what we will have to do in the future, but to have a staff and clinic like yours, is a light at the end of the tunnel. I am sure you are so busy with the clinics in Fla, but I wanted to make sure you knew what truly excellent experience I had at this clinic with Hina and the entire staff. I hope you and your board realize what you have at this clinic and are aware of the staff's excellence.
I would appreciate it if you could let Hina and the staff know about this letter. I know it will mean a lot to them. I only wish you had a clinic up here outside Philadelphia, Pa. for me to go to. We are over booked in this area with dialysis patients.
Again, many thanks for your time and hope you receive this letter. You can be enormously proud of the Pure Life organization."
-Michael Mocenter
Pure Life Renal of Naples FL